Coachman


Luxury Transport
New Rochelle Coach Bus Rentals
Are you planning a group trip to the area of New Rochelle, NY, and in need of reliable coach bus transportation? Look no further! New Rochelle Coach Bus Rental Company, Coachman Luxury Transport is a top-tier coach bus rental service for those seeking an unforgettable experience. Whether you're looking for comfortable seating during a long road trip or renting multiple coaches for larger groups, Coachman Luxury Transport has an impressive fleet of buses that can accommodate any traveling needs. Their friendly staff is knowledgeable and experienced and always willing to help get your travel plans underway. Learn more about our charter bus rentals in New Rochelle, NY right here!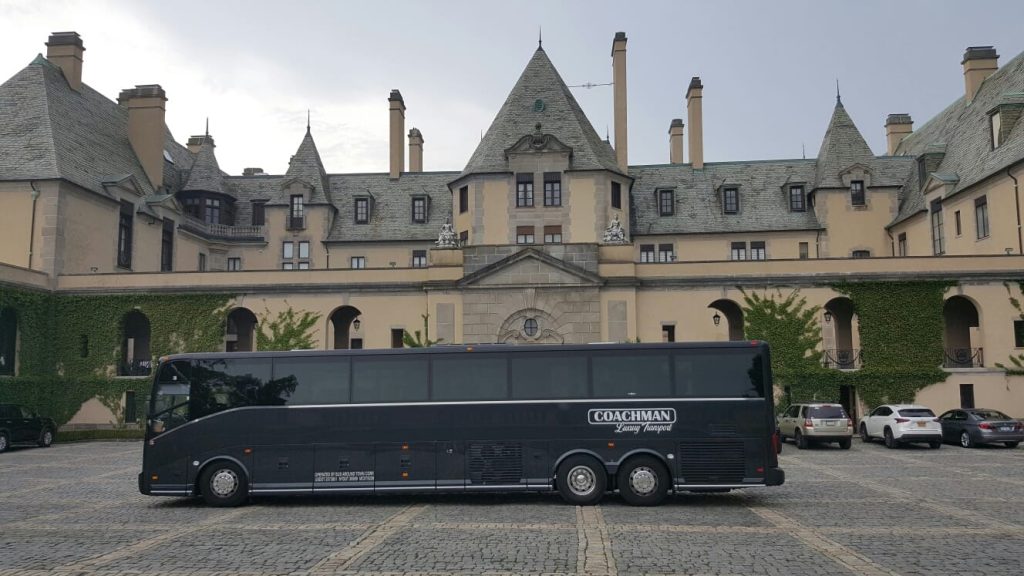 We value the time and quality of travel for each of our clients

Booking a coach bus rental in New Rochelle, NY can be a smart move for group outings, but it also requires careful consideration. Not all coach buses are created equal, which means there are several factors to weigh when deciding which rental option is best for your needs. For starters, you'll want to make sure the company you are working with is not a broker and actually owns the coach buses. Then assess the size of your group and ensure the bus has enough space to accommodate everyone comfortably. Additionally, you'll want to look at the amenities of each bus, such as entertainment systems, air conditioning, and even restrooms. Safety is also paramount, so make sure the bus company has a proven track record of prioritizing passenger well-being. By taking these factors into account, you can feel confident in your choice of coach bus rental and enjoy a successful group outing.
When it comes to traveling, safety is always a top priority. That's why there's nothing more reassuring than having a professional and experienced driver behind the wheel. With their extensive knowledge of the roads and their years of driving experience, you can sit back, relax, and enjoy the journey without any worries. Whether it's a long-distance trip or a short ride across town, you can trust that your driver will make your safety their utmost priority. So the next time you're planning a trip, consider the peace of mind that comes with having a professional driver at the helm.
Coachman Luxury Transport offers a wide variety of packages and services that meet the unique needs of every customer
Our fleet includes coach buses and luxury buses
See Our Video For
Covid Procedures.
Testimonials
Amazing Success Stories
Reliable and Professional
We used Coachman's luxury bus and coach bus to transport our 42 children to prom and down to the Jersey shore from Westchester County. Couchman company was extremely reliable, experienced responsible and professional. I would recommend and use this company again for any reason.

Margaret Evans
Excellent
My family rented a 40 passenger bus to transport us to a wedding and we had a great time! Bus was very comfortable, spacious and clean. The bus driver was excellent. Would definitely use Coachman again.

Monica Gioello
Will Definitely Use Again
I went with Coachman bc I heard that they maintain their buses very well through a local college sports team. Reserving for my group was pleasant and easy. I appreciated the pre-trip confirmation, the ride showed up clean and the driver was helpful and friendly. Smooth sailing and that's all I can ask for. Will definitely use again.

Rachel Baratz
Courteous and Professional
We reserved 4 buses for our annual school trip to Medieval Times. They arrived on time and got us safely to and from our destination. Drivers were courteous and professional. I have used another company for this trip for the past 12 years and will more than likely be using Coachman from now on.

Mary Grizzle
Exceeded Our Expectations
Again Coachman transport has exceeded our expectations. The 56 passenger bus was in great condition when it picked us up and our driver was fantastic. Thanks again for everything we'll be back later this summer!

Chris Riis
More Than Five Stars
Friendliest people I've ever dealt with. I ran a corporate event for my business and used one of their charter buses. The bus was BRAND NEW. I think I was actually the first person to sit in my seat. The driver was courteous and on time. Trying to figure out a way to give more than five stars.

Paul Shotland