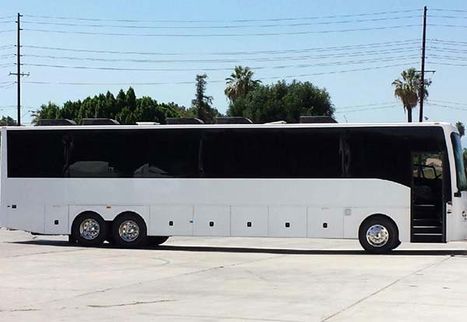 Coachman Luxury Transport
Looking to enjoy safe and secure transportation to and from a sports event? Needless to say, there is nothing as exhilarating as watching your favorite team winning and missing even the smallest bit of an exciting game is unacceptable.
At Coachman Luxury Transport, we understand that you want to celebrate your next sports event in style. We will take you and your fellow fans and safely get you to the game in our luxurious fleet of modern, first-class coach buses.
Why use our transportation services
Why worry about dealing with heavy traffic and finding a good parking lot when you can sit back, relax, and enjoy a safe, luxurious ride to and from any sports event. New York's exciting sports events are part of the city's DNA, and our charter bus services are the only way to cut through the stress of making it to the stadium on time.
Here is why you want to consider our professional, reliable, on time, and top-notch transportation services when attending the next sports event:
1. Get there on time
Being late for any sports event can be detrimental to the overall experience. Besides missing an important part of the game, the rest of the event can be uncomfortable. With our transportation services, we guarantee you to get to the destination on time and make it to your seat before start time. Of course, WIFI, outlets at every seat, blue tooth connectivity and a lavatory are all available on our coach buses.
2. Saving you from missing a tailgate event with your fellow sports fanatics
Parking can be one of the biggest pains when attending any big event. Instead of worrying about designated drivers, wasting your precious time searching for parking, and finally paying parking fees, we can save a bunch of dollars by safely dropping you in the bus designated tailgating location. Bring your coolers, tables, chairs, games and get ready for all kinds of tailgating events. Our coach buses have plenty of under-carriage storage space.
3. Party atmosphere
There's something about the energy of sports events that makes them exciting for all, but we want you to start enjoying the game spirit even before the actual game. Our luxurious vehicles offer the right party atmosphere, allowing you to enjoy all the way from the moment you board the vehicle. For the best experience, pool resources with friends to save money and have fun as you travel in safety, comfort, and style.
4. Highly affordable
Apart from providing the right atmosphere to have fun with friends when traveling to and from the event, we offer the most luxurious services at affordable prices.
Coachman Luxury Transport would be honored to get you to your next sports event. Contact us today to plan how you will get to your big game with our luxury coach buses.