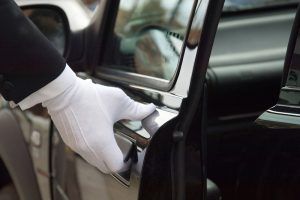 On October the 6th, all eighteen occupants of a 2001 Ford Excursion Limousine were killed in horrifying road accident that also took the lives of two pedestrians. The incident occurred in Schoharie, Upstate, New York, when the limousine failed to slow down at an T-shaped intersection on the tragic Saturday afternoon. The occupants of the limousine, most of whom were related, including four sisters, had rented the limousine for purposes of celebrating one of the occupant's, Amy Steenburg's, 30th birthday party. One of the occupants had apparently sent a text message to her cousin complaining about the terrible state of the vehicle just minutes before the tragic incident occurred.
Due to the incidents of this day, our Long Island ground transportation service finds it imperative to assure you, our esteemed clients, of the safety measures our concierge car service maintains to guarantee your safety and protection whenever you climb into one of our vehicles. Our New York charter bus service focuses on all facets of luxury transportation and our mission is to provide all our clients with the best experience; with added emphasis on matters of safety and well-being. Whether you are on your way to a special night out with a loved one, on your way to catch an important business flight, or simply on your way to a friend's birthday party; with us, you will get to enjoy comfort and style as well as the highest level of safety standards in the market.
The following are a few reasons to choose us for all you ground transportation needs.
Professionally Trained Chauffeurs
Our concierge car service only hires the best chauffeurs in the industry. All our chauffeurs are thoroughly trained, properly licensed, and carefully screened to ensure that they are qualified in all matters of concierge ground transportation as well as customer care. We conduct extensive background checks to ensure that each of the chauffeurs in our employ is of exceptional character, guaranteeing you the best, all-round transportation experience that exceeds even your highest expectations.
Our Fleet
We strive to provide all our customers with vehicles that will fit their individual travel needs, no matter what they may be. As such, our fleet is not only extensive but diverse; our impressive fleet also undergoes routine inspections and maintenance, ensuring that they are perpetually in pristine running conditions.
Privacy and Data Protection
Your privacy, safety, and security are not only a priority to us during your ride, but also before and after. We pay close attention to all our clients' protection and security and you can rest assured that all your personal information is safe whenever you are riding with us. All our online systems are constantly updated to ensure the safety of all sensitive information during data processing.
Technology
We also pride ourselves in having state-of-the-art technology, including GPS tracking systems, in all our vehicles, which allows us to monitor all your movements from the moment you take off to the time you arrive at your destination, further ensuring your safety at every moment you are with us.