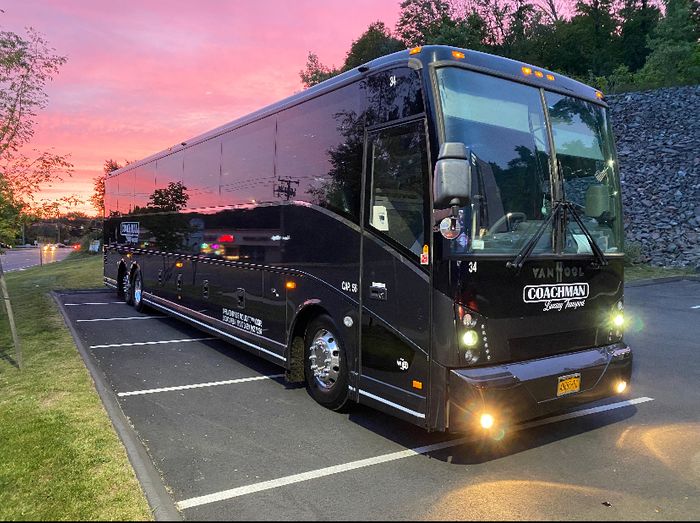 Coachman Luxury Trasport
Are you planning a birthday for your best friend? Or maybe, you're the maid of honor for your sister's upcoming wedding, and you just can't figure out where to take her for her bachelorette party. You're in luck because we have just the right idea for you; a day at the wineries. Pack your lunch, call your friends and family together and board a Coachman Coach bus to the wineries! But why us? Well, sit tight, swirl your glass of wine and allow us to take you through the unique experiences you stand to gain by choosing us for your wine tour.
Visit up to Three Featured Destinations
Baiting Hollow, Duck walk and RGNY are a few of our favorites! However, see www.newsday.com/wineryfinder for a list of the best of what the North Fork of Long Island has to offer.
We can help you pick the best wineries to choose whether you're looking for live music or a pet friendly experience. You won't just be exploring these wineries, you'll be exploring them with different wines on your palate, music in your ears, and laughter bellowing in the background.
Gourmet Service
You didn't think we'd leave food out now, did you? If you prefer we could organize it all!. For groups of 15 or moreour VIP packages come with specially served appetizers at the first vineyard and Gourmet side salads, fruit platters, desserts, and sandwiches at your second winery. As for the third vineyard, we've reserved that for live entertainment and dancing. Oh! How glad you'll be you came.
First-class Transportation
From the minute you book your wine transportation with us we consider you an exclusive guest. Exclusive people don't follow the crowd. They don't relish ordinary experiences. This reason is why we offer you first-class transportation and treatment. We have a large fleet of luxury party buses and coach buses, all equipped with WIFI, outlets at every seat, lavatories and Bluetooth capability. The party buses have specialty lighting, ultra-sound systems, and customized interiors and exteriors. Ride first-class all the way to the vineyards.
If you are ready to have a day at the wineries full of pure enjoyment, get in touch with us!